BOX #044 I Melbourne Food And Wine Festival Gippsland Box
Shipping Information

Cost of shipping is calculated at check out

CHEESE BOXES
We use full cold chain delivery service to ensure your cheese gets to you in excellent condition. For postcodes out of those service areas, we use StarTrack's premium overnight service.


Boxes are insulated with up-cycled Planet Protector wool lining and ice blocks to ensure the cheese is cool for up to four days in transit. Please ensure someone is home to collect (you'll get a notification when it's en route).

MERCH
For all merch order with use Australia Post delivery. We dispatch once a week on a Monday.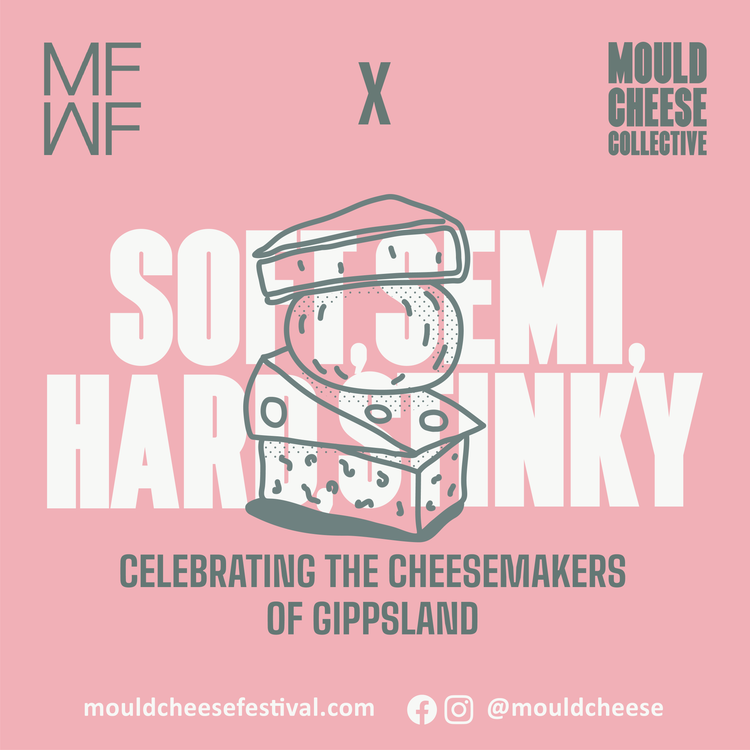 The Cheesy Details

This month, we hit the road and head to Gippsland for the Melbourne Food & Wine Festivals Regional Edition. We have put together this post-event box showcasing the best of Gippsland cheeses from our Masterclass 'Soft, Semi, Hard, Stinky'


*Shipping from 20th November* 

What's in the box?  

🧀 Tarago River Cheese Company - Jensen's Red (150g)
🧀 Butterfly Factory - Monkery (80g)
🧀 Berry's Creek Gourmet Cheese - Riverine Blue (150g)
🧀 Prom Country Cheese - RAW Cheddar (140g)

TARAGO RIVER CHEESE COMPANY 

- Neerim South (Boonwurrung), VIC

 'Jensen's Red', cow, washed rind 

Established in 1982, Tarago River Cheese Company pioneers farmhouse Australian artisan cheese. Situated in Gippsland's Western Port Catchment, the Jensen and Johnson families have integrated traditional cheese making into modern practices, adapting to evolving over the years. This milk reflects the diverse seasonal conditions of Gippsland throughout the seasons—hot, cold, wet, dry - honoring the essence of "farmhouse" cheese making. Washed regularly in a salty solution when young to develop its distinctive orange rind. As it matured its interiors moved from chalky curd to a cream-coloured smooth and soft becoming stickier and gooier as time goes on.
Think mushrooms, rich vegemitey smells, barnyard and yeasty characteristics.  

BUTTERFLY FACTORY - Yarragon (Boonwurrung), VIC
'Monkery', cows, lactic curd


Butterfly Factory in scenic West Gippsland encapsulates Rachel Needoba's cheese journey, born in Burgundy, France. Returning to Gippsland with her winemaker husband William Downie, Rachel established her brand in 2020.  Crafted from organic Fleckvieh cow's milk collected on the same day as milking, this delicate, small, soft cheese features a geotrichum wrinkled rind.
You'll find a  velvety, delicate mouthfeel that introduces a lactic curd that gradually mellows into a subtle earthiness, revealing a creamy paste accentuated with hints of mushrooms and smokiness.

BERRY'S CREEK GOURMET CHEESE - Fish Creek (Boonwurrung), VIC
'Riverine Blue' buffalo, blue

Cheesemaker Barry Charlton, acknowledged as "The King of Blue" among Australian blue cheese enthusiasts, brings decades of expertise in handcrafted cheese. Alongside partner Cheryl, their cheese legacy commenced in 2007, marked by the creation of award-winning cheeses. Their steadfast commitment to quality has firmly established Berry's Creeks reputation in the industry. Handcrafted from local Riverine water buffalo milk near Sale, this unique buffalo milk blue cheese, one of only a few in the world, offers a smooth paste interlaced with blue veins, gradually developing a slightly flakey texture, delivering a relatively mild blue taste that may appeal to newcomers. The buffalo milk provides a rich, dense, buttery texture complemented by salty blue, minerally taste, whilst being subtly sweet with complex savoury flavours. 


PROM COUNTRY CHEESE - Moyarra (Boonwurrung), VIC
'RAW Cheddar', organic cow, cheddar 

Prom Country, located in South Gippsland's lush hills, is a small family-run farm committed to sustainable and regenerative farming practices. Recently taken over by the Hales family, Daniel Hales, an enthusiastic young organic dairy farmer, spearheads a contemporary, regenerative approach, nurturing a wholesome farm ecosystem for robust, healthy livestock. This is a single batch production from early Autumn with a natural flaky, peachy-pink surface achieved through washing. The cheese is firm and crumbly, yet maintains a smooth texture. A savoury, full, and lingering taste with a long aftertaste typical of raw milk cheese.