BRISBANE
We packed out the John Reid Pavilion this year and our Brisbane fans came to play!
This was our biggest REVEL event in Brisbane ever with over 2100 people coming through the door.
Brisbane had the highest % of spend on cheese of any city. This means Brisbane is a hungry market for good quality Australian cheese.

Many of the cheesemakers sold out quickly in Brisbane so there is clearly way more potential in this city waiting for us to tap into. Avergages sales per cheese vendors was over $6400
2184+
attendees joined us on the day
$100.14
was the avg spend PP with 50% of that on cheese. Excludes cost of ticket
32.5%
growth on last years event making it the biggest Revel event in Brisbane to date.
Looking to 2023
We will be back in May. Hoping to get even more cheese producers there in 2023 than ever before. We know people in Brisbane will be there to support.
REGISTER FOR BNE 2023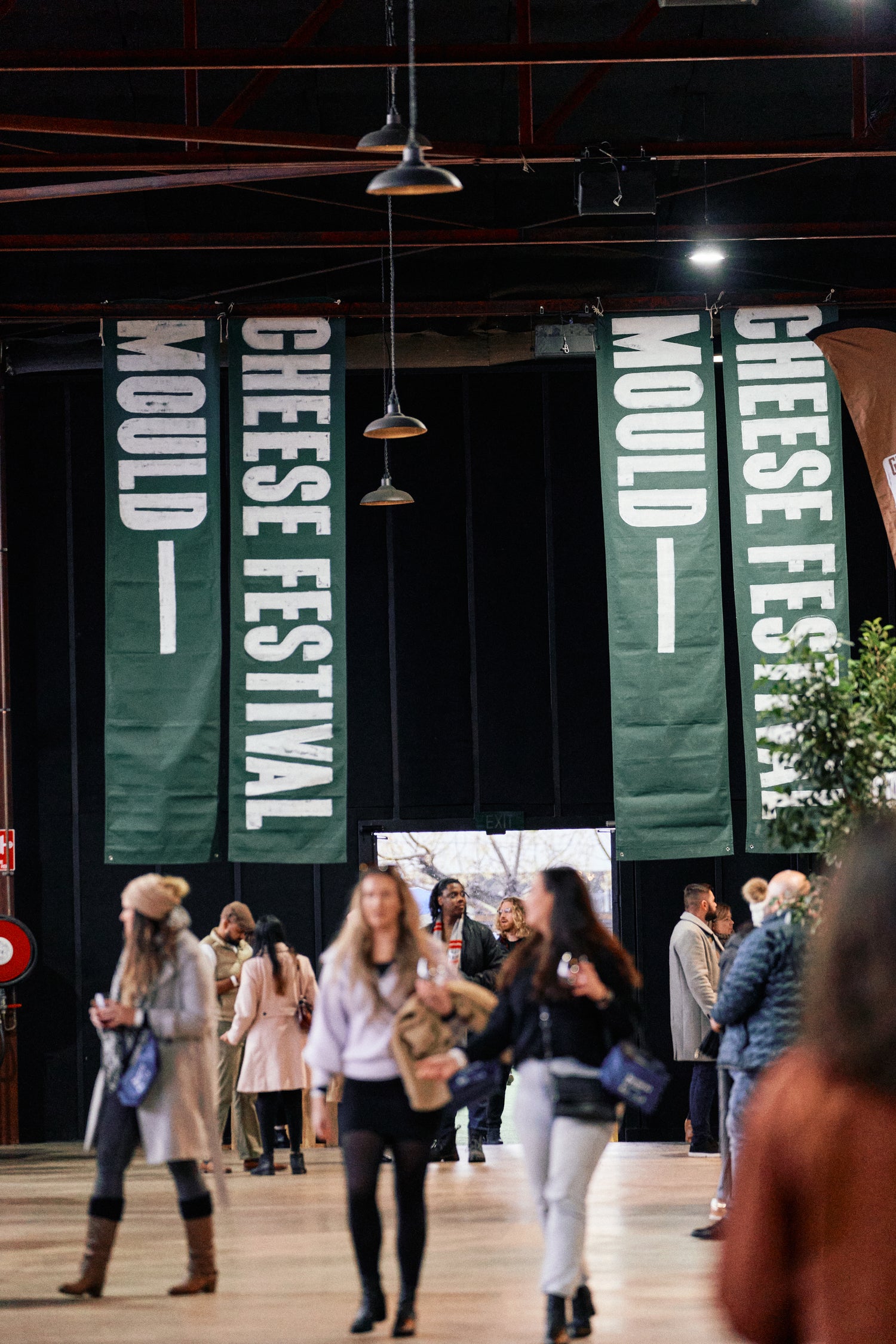 MELBOURNE 
The biggest REVEL event EVER! Thanks to all you producers that rocked up and came to place. 
Cheese sales were up a whopping 34.35% compared to last year. Overall Spend per head was $109.29. Biggest surprise from Melbourne was the increase in average transaction per person we believe this is due to the variety that was on offer. 
3100 people joined us; however, over 300 no shows. For cheese vendors, it's close to $700 of unrealised revenue per producer.  We adapted quickly to release more for the following sessions to help make this up. 
Average sales per cheese vendor was about $7200
3109+
attendees joined us on the day
$109.29
was the avg spend PP with 50% of that on cheese. Highest spend of all the cities. Excludes cost of ticket
58.05%
growth on last years event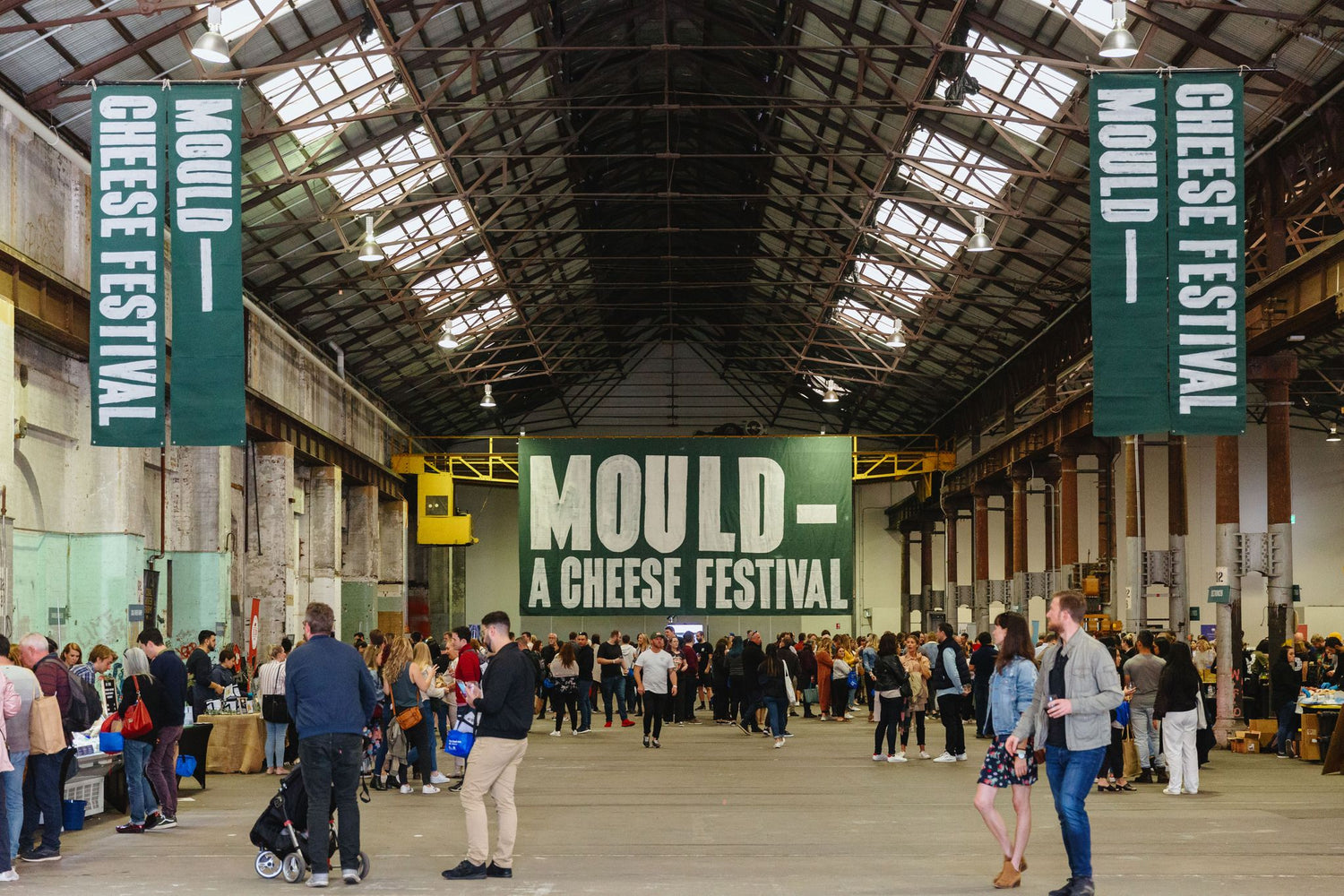 SYDNEY
Over 2794 punters joined us over 2 days. This was the biggest MOULD event in Sydney to date. $105.59 spend pp with 45% of that going towards cheese. 
Lines were a bit of an issue in Sydney, we found punters were far more interested in hearing your story rather than sitting down having a drink.

Each cheese stall on averge sales were over $5700 for the three sessions.
2794+
attendees joined us on event day
$105.559
avg spend PP on event day. excludes cost of ticket
42.30%
growth on last years event
Looking to 2023
We will be back at Carriageworks again in July. This time looking at adding an extra session on the Sunday.
REGISTER FOR SYD 2023
MOULD BY THE NUMBERS
& THE STATS AND FACTS THAT MAKE THE DAY.
Yep, we're CURD NERDS but also all about getting an understanding of what is happening on event day. Whether it be how much cheese is sold, by the kind, milk type or more we want to know. Every year we get to know more and more about our audiences in each city and country and we share this with you to better prepare you for future events. The more we know, the better we can prepare you on event day. One thing is for sure.
People LOVE Australian cheese are damn happy to pay for it.
8087
people joined us this year. That an increase of 53%
$105.54
avg spend per person (on top of ticket price)
5.2 TONNES
of cheese was sold on event day.
$393,561
spent on cheese across the three events
26
different cheese makers joined us
195
different cheese on tasting
4.7
avg number of transations per person
Spend By Milk Breakdown

Average price/kg

Spend By Type Breakdown

Average price/kg

Transaction /person

Transaction by category
Transactions are a great way for us to see stalls efficiently. We can determine whether a vendor is wasting or not using their resources effectively.
If you want to know your stall transactions breakdown analysis please shoot Rachel an email.
I want a transactions breakdown analysis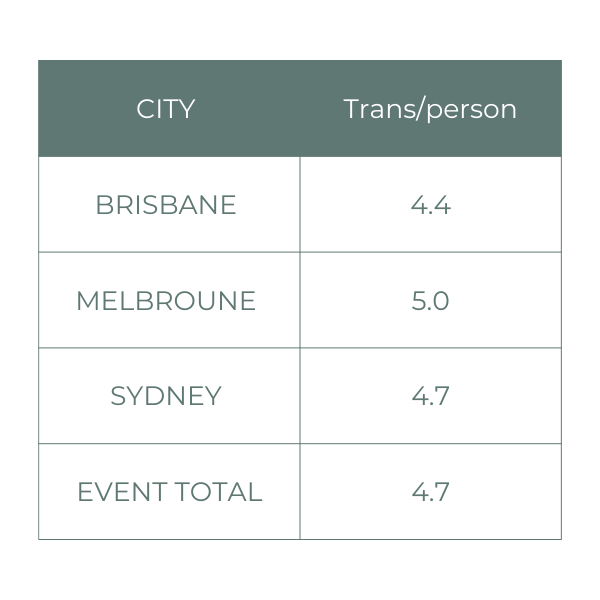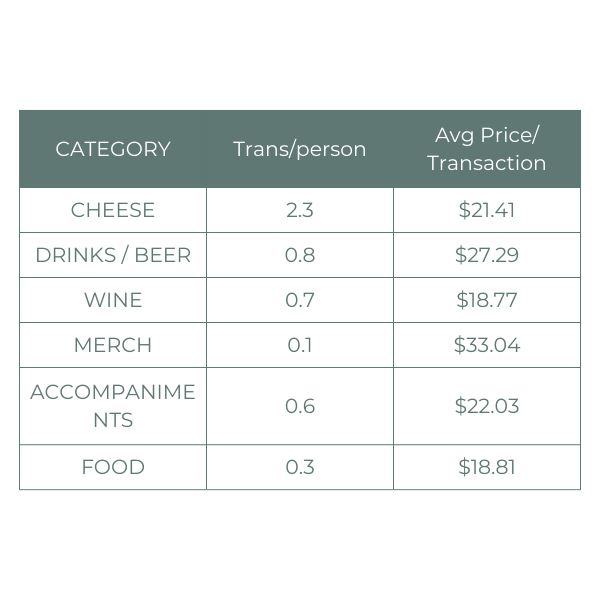 PEOPLE'S CHOICE
This year we have 2 ways of looking at People's Choice! This year we looked at both the voting through our Mould Cheese Festival App and also sales. We went full digital asking people to vote for their favourite producer and cheese through our Mould Cheese Festival App. This new addition allowed customers to favourite, add notes and email themselves their ultimate cheese list.
PEOPLE'S CHOICE WINNER
This year MILAWA took the top spot of People's Choice for Producer and their AGED MILAWA BLUE took top spot for people's choice for favourite cheese plus it was the highest selling cheese across the event. 
TOP 5 PRODUCERS

1. Milawa

2. Bruny Island

3. Grandvewe

4. Section 28

5. Coal River Farm

TOP 10 CHEESES

1. Aged Milawa Blue Milawa

2. Gin Herbalist Grandvewe

3. Sapphire Blue Grandvewe

4. C2 Bruny Island

5. Chilli Persian Feta Red Cow Organics

6. Traditional Cloth Matured Cheddar Pyengana

7. Silver Wattle Long Paddock

8. Banksia Long Paddock

9. Marc Bruny Island

10. Marinated Feta Coal River Farm
2023 TOUR DATES
More information coming soon
BRISBANE

MELBOURNE

SYDNEY

PERTH